powered by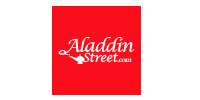 Aladdin Street Vouchers
Please wait while we process your rating

.

.

.
Get the latest deals and vouchers right in your inbox!
Redeem Exclusive Aladdin Street Coupons on New Straits Times
As Malaysia's first halal e-commerce platform, Aladdin Street is a hub for Shariah-compliant and premium halal products and services. These include food and beverage, fashion, pharmaceuticals, and cosmetics and beauty. Aladdin Street ensures that all these products are marketed by halal-certified merchants who adhere to the Shariah guidelines and are certified by the Islamic Development Department of Malaysia.
Apart from premium halal products, Aladdin Street ensures that you can shop with confidence as you will pay through secure payment methods and have a Buyers Protection Plan that prevents your purchases from being clicked to ship. You can also save money on your purchases with their exclusive offers and promo codes which you can find here on New Straits Times' designated page for Aladdin Street coupons!
Why Shop at Aladdin Street?
Premium and authentic halal products
To ensure consumer confidence and comfort, Alladinstreet.com only lists premium and authentic halal products and services. They also limit the number of merchants in each category to ensure the visibility of their products and ease of search. In addition, the merchants
Mandatory business screening
All merchants in Aladdin Street undergo strict halal and business assessment by their panel of Syariah and halal experts, and administered by esteemed figures in the halal industry for the final approval. In addition, these merchants should be registered with the ROC (Registrar of Companies).
Easy and secure payment methods
Browsing and shopping at Aladdin Street is a breeze. On top of that, you can pay with the world's most popular and secure payment methods. While you are guaranteed a secure payment, your personal details won't also be exposed. Aladdin Street only gives the go signal to merchants to ship your order after they confirm it.
How to Redeem Aladdin Street Coupons and Vouchers
Browse the list of available Aladdin Street coupons on New Straits Times and select one that suits your need best. Take note of their terms and conditions before you decide to make your selection. If you see a greyed-out coupon, it means that the offer is expired or unavailable. If the offer has a code, you will be redirected to a popup that contains the exclusive code. Be sure to copy it so you can paste it later into Aladdin Street's designated promo code box in the Checkout page.
Visit Aladdin Street website and look for the products that you wish to buy on the search bar at the top. You can also search for a product by browsing through categories and sub-categories on the home page. Once you click a sub-category, a list of products will show up in chronological order, from the latest product to the oldest. You can also change the filter to your liking according to lowest pricing, highest pricing, or most popular.
After selecting a product, you will be redirected to its listing page that contains details, customer reviews, and related items. Read the product details to ensure that you've got the right item. If you want to buy the product, click Add To Cart or Add To Wish List if you will purchase it at a later time. You also need to select the country and area where your item will be shipped, and input the postcode. Aladdin Street will ship to Singapore and Malaysia. After you input these details, you will be provided an estimated timeframe for the delivery, as well as the fee. Click Add To Cart once done.
Hit the shopping cart icon at the top right of the page and click Go To Checkout. On the Order Summary page, you will be asked for your email address if you are not signed in to your account. After providing the email address, keep an eye out for an email containing an OTP. Verify the OTP and enter your shipping address.
Paste the Aladdin Street coupon code on the designated promo code box and click Apply to get the discount. Below the page, choose your payment method. Click Pay Now to complete the transaction.
Payment Method
Aladdin Street accepts debit and credit cards issued by Visa and Mastercard, PayPal, as well as online banking from select banks.
Return and Refund Policy
Aladdin Street has a 7-calendar-day return policy for all their items. The countdown will commence on the date you received your items. It's not possible for your item to be returned after 7 calendar days, but if it's covered by a warranty, you can proceed to redeem the same item by contacting the manufacturer directly. To find the contact information of your product's warranty center, just check out the warranty card inside your package.
Customer Service
If you have any questions or complaints regarding your purchase, feel free to contact Aladdin Street customer service at their Toll-Free number: 1-300-130-999. You can also drop them an email at cs@aladdinstreet.com.my