powered by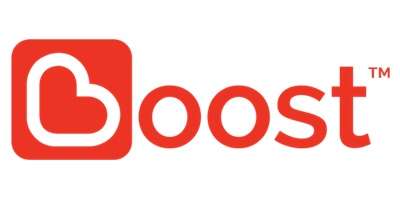 Boost Promotions
Please wait while we process your rating

.

.

.
Get the latest deals and vouchers right in your inbox!
Boost your lifestyle by going cashless!
Boost is one of the leading e-wallet services in Malaysia. You can now download the Boost app to enjoy endless rewards, discounts and cashback. Say no more to heavy wallets when you go cashless with Boost app. With Boost, life is always filled with surprises.
Why Boost Pay?
Easy & Secure Payment
There is no reason to fumble for cash anymore. You only have to "Scan and Pay". Just open the Boost app on your smartphone and scan the Boost QR code. Once you've scanned, the only thing left to do is pay and you're done! Built with the best technology to keep your personal and financial information secure and encrypted, only you can authorize every transaction. So, you can definitely trust Boost.
Pay Bills & Top Up Prepaid
Without having to leave your home, you can now use this e-wallet app to settle all your utility bills at one go. You can settle your internet bills, water bills and electric bills as Boost is partnering with Astro, Celcom, Unifi, Syabas, MPSJ, PTPTN and many more to make your life easier. For Hotlink, Digi, U mobile and XPax subscribers, you can even stay connected with your friends and family when you top up your mobile prepaid with Boost.
Boost your Shopping & Dining Experience
Shop till you drop by enjoying endless promotions and discounted vouchers from Boost on selected merchants (physical and online stores). Get the best Boost promotion and codes from partnering merchants like ZALORA, Watsons, Caring Pharmacy, Giant, 99 Speedmart, Tesco and many more. Enjoy your favourite meals from food and beverage outlets like KFC, Burger King, The Chicken Rice Shop, Tony Roma's, Tealive, DOME, Dunkin' Donuts, Absolute Thai and many more participating outlets.
Enjoy Boostastic Rewards
Ever heard others say, "Get Boost, get more rewards!". Well, now you can be a part of it. Save big when you shop for food & grocery items, health & beauty products, food & beverages, entertainment and lifestyle services with Boost app. Be spoilt for choice with great voucher deals from your favourite brands. You'll even receive cashback rewards too.
More Fun-filled Travels
Dear boosties, you can now give yourself that well-deserved vacation! Plan your travel with Boost app and enjoy hottest deals from your favourite online merchants. Enjoy cash vouchers and discounts from travelling agencies such as Klook, Trokka, Agoda, Mayflower, Firefly, etc. Holiday is going to be much more memorable with Boost.
How to Pay with Boost App?
Your smartphone is technically your Boost wallet. Boost pay at any Boost's participating outlets by following these simple instructions:
Download the Boost app & register your Boost account.
Choose your preferred payment option (online banking, credit card or debit card).
Click on 'Scan & Pay' icon on the Boost app home page.
Scan the QR code displayed at the outlet's cashier.
Key in the amount of money you wish to pay.
Verify with the cashier about the payment amount and outlet detail before making the transaction.
Enter your 6 digit-transaction PIN to authorize the transaction.
DONE. Payment has been made! It's that easy.
How to redeem Boost App e-wallet Coupons on NST?
Browse through the list of Boost app redemption codes & promotions on the 'Boost App' coupon page on NST.
Select your desired voucher and click either on the 'View this Voucher' or 'Get this Deal' button.
A pop-up will appear where you can copy the promo code.
If no code is required, click on 'Go to Store' and you will be redirected to the Boost's homepage to enjoy your offer.
How to download the Boost app?
You can easily download the Boost app on your smartphone from the App Store or Google Play Store today.
Check out the latest updates by following @myboostapp on Facebook, Instagram and Youtube or visit their website at https://www.myboost.com.my/
For further enquiries about your BoostApp transaction, you can email to support@myboost.com.my