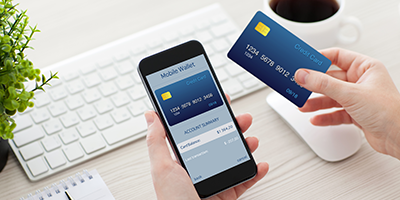 E-Wallet Vouchers
Get the latest deals and vouchers right in your inbox!
The Benefits of Paying via e-Wallet

Up 'till now, you've probably been paying for goods and services using cash or mobile money transfer. However, there's another simple and secure way to make payments with your mobile phone: e-Wallets!
So, what exactly is an e-Wallet?
Also known as digital wallets, e-Wallets are mobile payment apps that store your payment information on your smartphone. It's an electronic ticket to a world of financial convenience, security and efficiency. Having been growing in popularity over the past few years, this payment method represents a shift in economic transactions for goods and services. It allows consumers to trade using a more mobile form of payment as an alternative to traditional cards.
Here's Why You Should Start Using e-Wallets
Convenience
When you're using e-Wallet, you get to limit the number of cards you carry when you travel. All you need to do is tap your device or scan the QR code to complete the transaction. That means you no longer have to carry around a wallet full of cards when you go out.
Access to Other Type of Cards
e-Wallets typically store debit/credit cards. However, it's only if the provider is compatible with the wallet you're using. That means you can store rewards card, loyalty cards, and even coupons within your digital wallet, allowing you to enjoy more of a paperless lifestyle.
More Security
If you have a wad of cash in your pocket that gets lost, you have zero options available for you to recover your funds. Losing your credit cards means you must contact each bank to cancel the cards and have a new one issued. With an e-Wallet, the information is stored through a third-party provider. Even if you lose your device, you'll still have access to your e-Wallet once you get a new device since it's locked behind your password.
More Rewards
You can find discounts apply to certain purchases, such as food, petrol or even travelling. Some merchants may collaborate with the e-Wallet to provide special offers! That means you have the potential to save money without changing your spending habits.
How to find and apply e-wallet promo code
Browse through the available coupons from your preferred merchants under the

Vouchers

category on NST.

Click on the card to reveal your promo code.

Copy and paste the e-wallet promo code in the appropriate box upon checkout. Take note that different merchants would have different requirements for redeeming the codes.

Complete your transaction and enjoy your exclusive benefits from using e-wallet!