powered by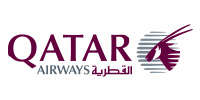 Qatar Airways Coupon
Please wait while we process your rating

.

.

.
Get the latest deals and vouchers right in your inbox!
Discover Exclusive Coupons and Promo Codes from Qatar Airways Malaysia
Qatar Airways is one of the newest and one of the fastest-growing global airlines, serving six continents with over 150 destinations every day. Apart from its latest generation fleet of aircraft, Qatar Airways has dedicated staff, crew, pilot, and management team.
Why Choose Qatar Airways Malaysia?
Offers Great and Reasonable Flight Promotions
Many travelers choose Qatar Airways because it offers great and reasonable flight promotions. The company is also known for featuring attractive flight packages that can save you time and money. Moreover, Qatar Airways never fails to provide quality service to its customers; thanks to their dedicated cabin crew.
First Class Experience
With Qatar Airways' premium amenities, they offer remarkable in-flight experience to customers, whether business or economy class. From hospitality to customer service, they excel in every department to provide first-class traveling experience for every traveller. For this reason, they won many awards from leading aviator and consumer websites.
Redeeming Discounts and Promotions from Qatar Airways Malaysia
There are many promotions found in the coupon section above so that you can save even more money when you travel!
Go to the coupon section above to browse through the latest Qatar Airways coupons.

Select the Qatar Airways promotion that you want to use on your purchase by clicking on the Get Coupon Code button. You will then be redirected to a different page where you can copy the code.

If the Qatar Airways Malaysia promotion doesn't come with a coupon code, just proceed to the Qatar Airways website.

When you reach the main website of Qatar Airways, browse through their countless flight details and promotions.

When it comes to choosing your flight, you will see a table of available flights, each one has its corresponding travel classes. It will also show you the lowest fare possible for your flight.

Once you have your preferred flight, click Continue to proceed to the next page where you can enter your personal details and customize your flight according to your preference.

After that, you have the option to pay now or book and pay a small amount.

If you want to pay now, choose a payment method.

Before confirming payment, you can enter the Qatar Airways promo code you copied earlier in the designated promo code box.

A notification along with the itinerary will be sent to your e-mail once the booking is complete.
Payment Methods
Aside from paying fees at their kiosks, Qatar Airways accepts payments through internet banking and credit cards issued by VISA and Mastercard.
Cancellation and Refunds
If you want to submit a request for a refund, you can process it on http://www.qatarairways.com/global/en/refund-request.page. For cancellations, you can cancel bookings if fare restrictions permit. To cancel or change your booking online, just sign in to your Qatar Airways account. Then, go to My Trips tab to view your flight and have it changed by clicking the "Modify flights" button. If you cannot change it online, then it's best to contact the nearest Qatar Airways office in your area.
Customer Service
If you have any queries regarding your booking or your flight, feel free to contact Qatar Airways' dedicated customer support team at +603 2118 6100, available daily, from 8 am to 8 pm. You can also drop them an email at kulenquiries@my.qatarairways.com.