powered by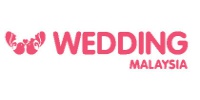 Wedding Vouchers
Please wait while we process your rating

.

.

.
Get the latest deals and vouchers right in your inbox!
Plan the Best Wedding Ever with Wedding.com.my!
Have you always dreamed about planning a fairy-tale wedding? Every couple wants to achieve the perfect wedding whether it's a garden wedding, a church wedding, a beach wedding, etc. Thankfully, you are one step closer to achieving your dream wedding with Wedding.com.my. This is the site to be for everything that relates to matrimony. This all-in-one site gives you access to the best wedding fashion, makeup, decorations, food and beverage services, photography, and more! With Wedding.com.my you can plan a lavish wedding without having to break is possible.
About Wedding.com.my
One of Malaysia's Top Female Lifestyle Portal, Wedding.com.my is a guide to fulfilling your best day ever. The site provides services such as bridal tips for brides and grooms as well as for couples who are getting married. They also offer wedding ideas and inspirations to the most intricate degree in anticipation of the couples' big day. While reading their blog, you can also browse for exciting products and services such as the entourage, makeup, gifts, food catering, and even honeymoon destinations! Wedding.com.my takes you to the next step in planning your dream wedding.
Why choose Wedding.com.my
Wedding.com.my brings you closer to your dream wedding. You don't need to cram for a catering service or book a photographer, this is the website where you can plan your wedding in an instant! You will have access to the best wedding vendors in Malaysia, choose your wedding dress, theme, and even your honeymoon destination! Furthermore, the site also has affordable wedding packages for budget-conscious couples. Everything you need to plan the perfect wedding is in Wedding.com.my.
Vast variety of wedding vendors
The wedding planning portal consists of a wide range of wedding shops and vendors that are well-known in the wedding industry. Only at Wedding.com.my, you can find the largest and most trusted vendor networks in Malaysia that are dedicated to engaging and inspiring couples with beautifully curated contents, wedding photographs, videos, and stories. From venues to wedding gowns, you can find every type of service you desire to suit to your wedding.
Best wedding packages
Other than connecting customers to a variety of wedding vendors, Wedding.com.my also offers promotions and deals on all types of wedding packages, products, and services for various wedding celebrations such as engagement, ROM, and wedding parties. Find your perfect wedding theme with the top wedding reviews and checklists. Be it modern, garden, outdoor, beach or Malay-culture theme, you can find everything on the site.
Available throughout Malaysia
Currently, wedding.com.my offers shipping and delivery to all parts of Malaysia. So, no matter if you are situated in the East or West of the country, the site guarantees the best service for every customer. On the other hand, you can simply look for all the top wedding shops throughout Malaysia.
How to order through Wedding.com.my
Planning a wedding has never been simpler with Wedding.com.my. On top of that, you'll get the best deals and discounts offered through NST.
Browse through the list of coupons on our site and select the one that catches your attention.




2. Once you have made your decision, click on 'View this Voucher' or 'Get this Deal'. If there is a coupon code, make sure you copy it first so that it can be utilised later.




3. After that, you will be redirected to the homepage of the site.




4. Before you look through the site, make sure you sign up as a member.




5. Select various wedding services from the dropdown menu on the homepage.




6. You may read the review for every service before making your purchase and then add the product that you desire to the cart.




7. At the checkout page, fill in the necessary details and correct delivery address. You may paste the coupon code that is applicable to your purchase.




8. An official receipt will be sent to you and the ready stocked item will be delivered to you in less than a week.




Wedding.com.my guarantees safe and fast transactions. You can trust Wedding.com.my to make the best day of your life even better!
Shipping and Delivery
Once the order is placed, it will undergo verification to make sure that payment, contact, and delivery address are all correct. Once your item/s have been shipped out, you will receive an email containing a tracking number. Please note that oversized items may take longer to deliver. Free shipping is also available but some vendors may charge a shipping fee.
Payment Options
Wedding.com.my also provides flexible payment options. To complete your transactions, the store accepts all major credit/debit cards including Visa and Mastercard. You may also complete your purchase using online banking, and PayPal.