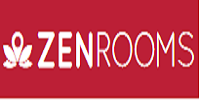 ZEN Rooms Vouchers
Please wait while we process your rating

.

.

.
Get the latest deals and vouchers right in your inbox!
Grab exclusive Zen Rooms coupons and vouchers on New Straits Times
If you need a break from the pressures and stresses of work, travelling can break the monotony of your everyday life! Southeast Asia has rich travel destinations that you should explore, from the rich jungles of Colombo to the exotic beaches of the Philippines. To help you with your accommodation, Zen Rooms is at your service. Providing travellers with affordable alternatives when it comes to accommodation, Zen Rooms gives you a ton of options that would suit your comfort.
Originating from Indonesia, Zen Rooms was first established in 2015 from a traveller's perspective. Since then, Zen Rooms has spread over to 8 countries in Southeast Asia including Malaysia, Thailand, Hong Kong, and Singapore. Zen Rooms has become one of the fastest growing budget hotel chains with 5,000 rooms within 35 locations.
Zen Rooms helps you fulfill your #TravelGoals by providing you with exceptional service and the best rooms within the hottest destinations in the region!
How to book your rooms
If you are thinking of travelling to Southeast Asia and its nearby regions, wherever you may be, you can conveniently book and manage your bookings with Zen Rooms! In as quick as a few taps or clicks, you can make your #TravelGoals a reality. Here is a quick guide on how you can book a room from Zen Rooms Malaysia.
On the Zen Rooms website search for available rooms by selecting your destination, travel date, and the number of guests.

The result would be a map with a selection of hotel rooms available within the specific date that you entered as well as their respective prices. Use this map to your advantage to locate a hotel room closest or most convenient to your destination.

Select the hotel that would suit your travel plans. You will then be routed to a page containing all the information that you need such as photos of the room, amenities, and description.

If you want to book a room, all you need to do is proceed and enter your personal details such as your name, and contact number.

Follow it with your preferred payment method and your payment details to confirm your booking.

After payment, all you need to do is wait for a confirmation email from Zen Rooms and you're all set!
How to redeem your Zen Rooms coupons
Aside from convenience and comfort, Zen Rooms also provides exclusive discounts and offers in the form of coupons. You can use these coupons to make your bookings more affordable! Follow these steps on how you can redeem your Zen Rooms coupons and discounts:
Go to New Straits Times' designated page for Zen Rooms coupons and check out the ones that interest you.

Click on the coupon that you want to use on your booking. After that, copy the code for later. Please be reminded that there are coupons that do not require a coupon code.

Once you enter your personal details to book a room on the Zen Rooms website, simply paste the code into the discount box provided.

Apply the coupon code and get exclusive discounts from New Straits Times and Zen Rooms!
Payment options
Zen Rooms accepts only credit/debit cards at bookings. This ensures you can take advantage of their special rates, at the same time your preferred Zen Room is reserved for you. Credit card payments on Zen Rooms is very secure – they won't store your confidential details and only get specific information to process your payment. In addition, Zen Rooms is backed by the biggest internet group and they are committed to providing the highest level of online security.
Cancellation policy
You can cancel your bookings at Zen Rooms quickly and easily. Zen Rooms understand that people's plans can change at any time, so they ensure that their cancellation process is fast and simple.
If you made a refundable booking and you cancel or modify it within 48 hours before your check-in date, you won't be charged a fee. Your refund will be directly credited to your bank account. Otherwise, Zen Rooms will charge you 1 night for each booked room. If you made a non-refundable booking, unfortunately, you can't modify it.
Other conditions
Zen Rooms offers locations which can accommodate more than 2 people in a room. Do reach out their customer support team if you need help in finding the best room for you.

If you want to bring your pet to the hotel, you need to check the pet policy of the Zen location beforehand, so that you won't face any problems.
Customer service
If you need help in making changes to your booking, feel free to reach out Zen Rooms support team via email, phone, or WhatsApp, so that they can make the essential changes.
Phone: +60 392 121 772
Whatsapp: +62 877 8080 3550
Email: care@zenrooms.com