powered by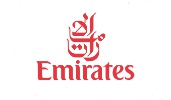 Emirates Vouchers
Please wait while we process your rating

.

.

.
Get the latest deals and vouchers right in your inbox!
Save More with Emirates Malaysia's Coupons and Promo Codes
With the array of airlines in the market, choosing one can be quite a hassle. But there's one name that is renowned for its budget-friendly flight packages and other awesome perks – Emirates. It's the world's fourth-largest airline in terms of the number of international passengers carried, and more and more travellers are choosing it as their preferred airline. Emirates are also becoming more popular amongst Malaysians, liked for their top-class in-flight service and reasonable flight ticket prices.
Why Choose Emirates?
Extensive Network
Emirates has a vast flight network and international affiliates so even the most remote destinations are covered. They also fly to all major cities, so there should be an Emirates flight departing from your nearest airport.
Reasonable Pricing
Although Emirates isn't the most affordable airline on the market, it's not totally expensive either. Ticket prices are always reasonable and are likely within low to average price range. If you find the prices steep, Emirates frequently feature sales and promotional fares. These offers are often one of the cheapest on the market.
Improved Economy Class
Emirates is one of the first airlines to improve its economy class offerings. They know that the economy class forms the bulk of travellers today so they never miss out on providing exceptional service. Both economy and business class boast comfortable and spacious seats, with each seat coming with a USB port and a charging outlet to recharge your devices. They also come with an onboard connectivity such as WiFi and telephone services, which are offered for a reasonable price.
Great Food and Top-Notch In-Flight Entertainment System
Being stuck in an aeroplane without proper entertainment can be a sickening experience, even for the most seasoned flyers. To prevent its customers from being bored to death during their flights, Emirates offers a wide array of in-flight entertainment services. Emirates serves delectable cuisines which depend on the country you're flying to. So, if it's your first time flying to a certain country, then you get to discover what kind of food they have. If you are health-conscious or have any dietary restrictions, worry not because they'll cater the right meal for you. When it comes to entertainment, Emirates' ICE (which stands for Information, Communication, and Entertainment) has been voted one of the best in the world for 10 years running.
Gets You Up-to-Date While in the Air
Passengers get up-to-date with current and global affairs while in the air with BBC news. They can also see the plane take off or land using the airshow function. With that, passengers can also track the plane's movement on a live world map. Not to mention, it can provide them information about the weather, flight data, and estimated arrival times for you to better plan your schedule accordingly.
Redeeming Discounts and Promotions from Emirates Malaysia
Go to the coupon section above to browse through the latest Emirates coupons.

Select the

Emirates promotion

that you want to use on your purchase by clicking on the Get Coupon Code button. You will then be redirected to a different page where you can copy the code.

If the

Emirates Airlines promotion

doesn't come with a coupon code, just proceed to their website.

When you reach the main website of Emirates, browse through their countless flight details and promotions.

When it comes to choosing your flight, you will see a table of available flights, each one has its corresponding travel classes.

Once you have set your flight details, you will see a promotional code box below. Just enter the

Emirates promo code

you copied earlier. After that, click Search to proceed.

If the flight is available, enter your personal details and select your add-ons and seat.

Finally, choose a payment method. If it goes through, you will receive an e-mail notification that your booking is complete. At the same time, you will receive your itinerary as well.
Payment Methods
Aside from paying fees at their kiosks, Emirates accepts payments through internet banking and credit cards issued by VISA and Mastercard.
Cancellation and Refunds
You can cancel your booking online depending on the type of ticket you hold. You may request the refund by logging in to your account and using the link in Manage a Booking. For refunds, you will receive one if it is allowed by the fare conditions of the booking. They will refund the credit or debit card you used to purchase the ticket.
Customer Service
If you have any queries or suggestions, feel free to reach out their Customer Care Centre at +60362074999.