powered by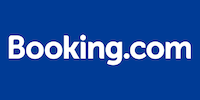 Booking.com Promo Code
Please wait while we process your rating

.

.

.
Get the latest deals and vouchers right in your inbox!
Get Exclusive Booking com Coupons on Bookings, Flight, and Car Rentals on New Straits Times
Since 1996, Booking.com has been one of the most visited online travel fare aggregator sites in the world. In 2005, it has been operating under the Priceline Group – an American company. Booking.com lets you compare prices for travel accommodations, airline prices, and car rental fees. While other sites also offer these features, what sets Booking.com apart from the rest is their cheaper and more affordable rates which you won't typically find when booking straight away from hotels or airline websites.
How to book your travel accommodation on Booking.com
Fill in your travel details
Start by entering your travel details into the search bar. Select your travel destination, arrival and departure dates, and how many people are joining you on the trip. Specify the number of adults and children traveling with you and indicate if you're on business or holiday trip.
Filter Your Results
After you've entered your travel details, your results will display right away. The results are based on users' ratings and reviews. The unfiltered ones you will see on the top are based on the best deals and discounts found on the site. If you don't like the accommodations in the results, you can look for the right one by using the filters on the page. Filter the results based on star ratings, type of facilities available in the vicinity, property types like resorts, apartments, villas, and hostels, prices from low to high or vice versa, the town districts, and room amenities.
Choose the right suite/room
Once you've found the ideal accommodation to stay during your holiday or business trip, check out the place's available suites and rooms. From there, you can learn more details about the types of rooms they offer, the room sizes, the view, and the amenities such as bathtubs, safes, and hair dryers. The prices you will see for each room tell you how much you will have to pay in total rather than the rate of the room per night. Choose the right one for your trips and proceed to fill in your personal details.
Payment Methods
Depending on the offer of your accommodation, there are various payment methods for your travel lodging. Some accommodations require a down payment, which will cut off the hotel fees beforehand. Others let you pay after your stay at the hotel with the condition that you don't cancel your booking within seven days before your travel date. For accommodations that require you to pay beforehand, Booking.com accepts debit and credit cards issued by Visa, MasterCard, American Express, as well as online banking from selected banks.
Be familiar with cancellation policies
Some accommodations on Booking.com have strict cancellation policies. For instance, canceling your bookings at any time before your stay will incur you a cancellation fee. The same goes for no-shows, where you fail to appear at your accommodation during the indicated travel dates.
To avoid being incurred cancellation fees, be sure to read all the policies and requirements of the bookings before proceeding with the payment or find listings that don't have strict policies on booking cancellations. If you need to change your travel dates without being charged extra fees, feel free to contact the Booking.com customer service.
Check out other services
Aside from travel accommodation and lodging, you can also look for car rentals, airport transport, and flights at affordable rates on Booking.com. The site has a search feature that is similar to its accommodation search engine where you only need to enter your destination and travel dates. After that, select the most affordable offer for the transport service or flight to finalize your trip planning.
Booking.com Mobile App
With your mobile phone, you can look for offers on flights, transportation, and travel accommodation via the Booking.com mobile app. It is currently available for download on Google Play Store and App Store for Android and iOS users, respectively. Its search feature is similar to the one on Booking.com but what's unique about it is that it lets you look for lodging whenever, wherever you are.
How to Redeem Booking.com Coupons and Codes
You can redeem exclusive coupons and codes from New Straits Times by following these simple steps.
Visit Booking com coupons page on New Straits Times website.

Look through the available coupons and read their terms and conditions.

Bear in mind that greyed out or unclickable coupons which mean unavailable or expired.

If the coupon comes with a code, you will be redirected to another page that contains the exclusive code. Be sure to copy it so you can paste it later into Booking.com's checkout page.

Head to Booking.com and key in your travel dates and destination, browse their catalogue of travel accommodations and make your choice.

Paste the code into the designated promo code box on Booking.com's checkout page to get the discounts.

If the coupon doesn't have a code, it means the deal will be automatically applied and offered site-wide.
Booking.com Customer Service
If you have any questions or complaints, feel free to contact Booking.com customer service numbers below.
Hotline: 03-7724-4265
Office phone number: +60 32296 7800
Fax: +60 32296 7999